beton-epoxymeters voor vloeroppervlak en polijstmachines
300 type beton epoxy vloeroppervlakslijpmachine en polijstmachines kunnen worden gevuld met een verscheidenheid aan slijpkop (inclusief OK-380 veelgebruikte diamant slijpkop machine, snijkop, de zandgrond met kom slijpkop), zogenaamde multifunctionele epoxy vloer polijsten machine. super krachtige luchtkoeling motor en dubbele condensator ontwerp zorgen voor een veilige werking en een sterke vermogensafgifte. Multifunctioneel zoals tapijt- en vloerwas, was en polijst en vernieuwing op lage snelheid.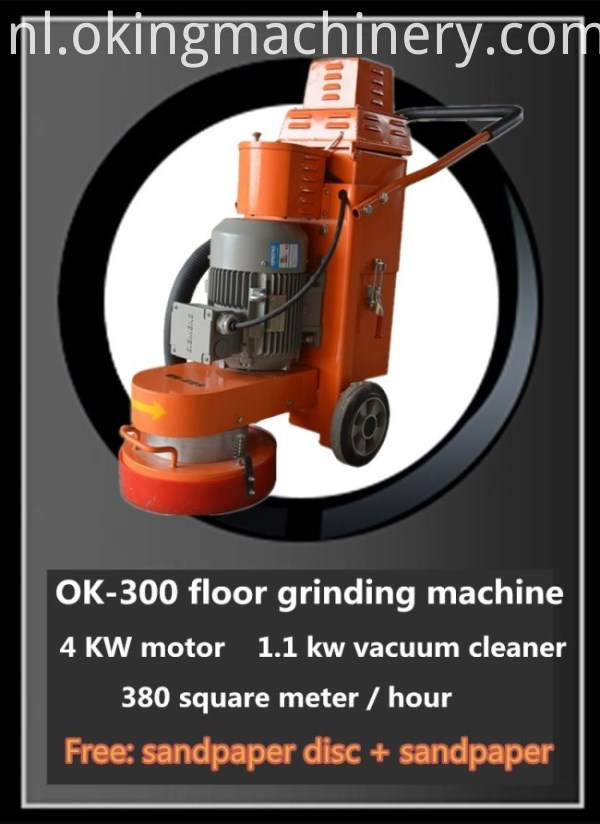 1. Integratie van vloerslijpen met stofabsorberende functies om stofvrije werking mogelijk te maken.
2. Verstelbare machinehoogte om vlakslijpen te garanderen
3. Efficiënt en energiebesparend dynamisch systeem in combinatie met uitstekende en klantvriendelijke productietechnologie.
4. veranderlijk roterende schijf en twee optie van verbruiksartikelen beschikbaar (diamant, slijpschijf)
5. Met één schakelaar kunt u de draaiende richting van de schijf wijzigen
6. De speciaal inbegrepen stofzuiger kan stofvrije verrichting toestaan. Gemakkelijke en eenvoudige verrichtingen maken tot het de beste keus voor epoxyverwijdering.
Activity or Features

Improved

Baseline

Model OK-300B

Model OK-380B

Weight

114 KGS

251 LBS

130 KGS

286 LBS

Voltage

220 V / 380 V

220 V / 380 V

380 V

380 V

Power

4 KW

5.4 HP

3 KW

4 HP

Leveling Depth

1-3 mm

0.25-0.76 in

1-3 mm

0.25-0.76 in

Cleaning Path

300 mm

76.1 in

380 mm

96.4 in

Dust Collection Power

1.1 KW

1.475 HP

0.75 KW

1 HP

Dust Collection Capacity

17 L

3.74 Gal

17 L

3.74 Gal

Dust Collection Power

1.1 KW

1.475 HP

0.75 KW

1 HP

Production

4-6 m2/min

3-5 m2/min

Warranty

1 Year

1 Year

Motor Phase

Three Phase

Three Phase

Motor Brand

Siemens 1LE0001-1AB25-1AA4

Siemens 1LE0001-1BB23-3AA4

Dust Collection Motor

Made in USA

Made in China

Grinding Plate

Multi-Function Plate

Triangle Plate
Toon details
1. Met Siemens motor en Ametek stofzuiger motor.
2. Uitgerust met stofzuiger Stofvrij werken, slijpen en stof reinigen is tegelijkertijd.
3. De schakelaar van motor en stofzuiger is gescheiden.
ons bedrijf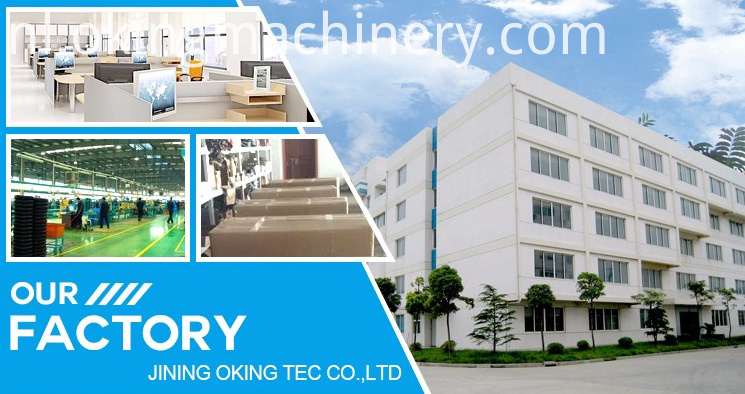 Belangrijkste toepassingsgebied: Beton Slijpmachines , vloerpolijstmachines , wegmarkeringsmachines, vrachtwagenkranen, wegwalsen, graafmachines, betonnivelleermachines, troffels en andere bouwmachines.
Jining oking tec co., Ltd, opgericht in 2010, is een professionele fabrikant die zich bezighoudt met het onderzoek, de ontwikkeling, productie, verkoop en service van beton slijpmachines, vloer polijsten Machines, Road Line Marking Machines, Truck Kranen, Road Rollers, graafmachines, Beton levelingmachines, Power Troffels en andere bouwmachines.
Wij zijn gevestigd in Jining stad, provincie Shandong met gemakkelijke toegang tot vervoer. Gewijd aan strenge kwaliteitscontrole en doordachte klantenservice, onze ervaren medewerkers staan ​​altijd voor u klaar om uw wensen te bespreken en voor volledige klanttevredenheid te zorgen.
In de afgelopen jaren hebben we een aantal geavanceerde productieapparatuur geïntroduceerd en hebben we ook een uitstekend productieteam en een compleet systeem voor kwaliteitsborging om ervoor te zorgen dat elke partij goederen tijdig en van hoge kwaliteit wordt geleverd aan klanten.
We hebben ook een uitstekend managementteam, ervaren technisch personeel en een professioneel verkoopteam om alle problemen op te lossen die u voor en na de verkoop tegenkwam. Daarnaast hebben we ISO 9 0 0 1: 2 0 1 5-certificaten behaald. Verkopen goed in alle steden en provincies in China, onze producten worden ook geëxporteerd naar klanten in landen en regio's zoals de Verenigde Staten, Europa, Australië, Zuidoost-Azië, Rusland, het Midden-Oosten, Afrika. We verwelkomen ook OEM en ODM bestellingen. Of u nu een huidig ​​product uit onze catalogus selecteert of technische assistentie zoekt voor uw toepassing, u kunt met ons klantenservicecentrum praten over uw inkoopvereisten.
Product Categorie : Betonmolen